Buy the Home
You are Currently Renting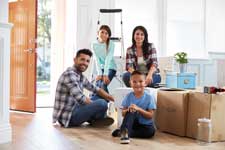 Are you currently renting a property from We Rent Homes? Would you like to make it yours permanently? If so, the opportunity to purchase may be available.
Home ownership enables you to start building equity while also permitting you to make and enjoy improvements to the property. And although your property taxes may fluctuate, you'll no longer need to worry about annual rent increases—plus they're tax deductible!
Not quite ready to buy or need non-traditional financing? We also offer Options to Purchase (with first right of refusal) and owner‑financing opportunities on many of our properties. Adding an Option to Purchase Addendum gives you the opportunity to purchase the home within a specified timeframe at a specified price—giving you time to plan for the purchase. Owner financing may help you purchase a home if you don't qualify for a traditional mortgage.
How do you make the transition from renter to owner? It begins with one important step—letting We Rent Homes know you're interested. To find out if your home is available to purchase just FILL OUT THE FORM.