Rental Services
Why Rent From We Rent Homes?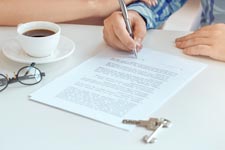 Here at We Rent Homes El Paso we are always striving to give our current and future tenants the best renting experience possible. Our showing agents can help you find a home, tour a property, and navigate the rental process. We offer state-of-the-art online services to make the rental experience easy and convenient. The online Tenant Portal allows you to pay rent, view monthly invoices, and submit maintenance requests at the push of a button. In addition to traditional leases, we also offer Options to Purchase (with first right of refusal) and owner‑financing opportunities on many of our properties so that you can progress from a renter to a homeowner. 
Let our team help you find your next home!
Offering Properties That Meet Your Needs
We offer an abundance of 3+ bedroom, 2+ bathroom rental homes at various price points in the greater El Paso, TX area. Whether you need a quick commute to work, access to great schools, or have a desire to live in the heart of the city, we have you covered. Many of our properties feature deluxe amenities such as stainless steel appliances and refrigerated air conditioning.
Not sure where you want to live in El Paso? Here are a few highlights of each area:
The Westside (to include the Upper Valley) offers a great place to live, work, and play. Some of the highlights of the Westside include: UTEP, Whole Foods, Alamo Drafthouse Cinema, Top Golf (coming soon), The Hospitals of Providence, Las Palmas Medical Center, West Towne Marketplace (coming soon), and The Outlet Shoppes at El Paso. It also has some of the top schools, parks, and other great amenities for you and your family to enjoy. 
The Eastside offers a variety of housing choices and has an abundance of transportation options that make for an easy commute. The Eastside features Fort Bliss, the El Paso International Airport, multiple El Paso Community College campuses, golf courses, and The Fountains at Farah, a retail center that offers a unique combination of restaurants, shopping, events and entertainment in a beautiful outdoor environment. You won't have to go far to find just what you're looking for.
The Far Eastside (east of Loop 375) has recently expanded and has a modern feel with brand new shopping areas, eateries, parks and some great new schools. It is also conveniently located close to major transportation arteries, helping you get where you need to go.
The Northeast has also become a hot spot in real estate growth. This area is close to Fort Bliss, shopping centers, and a variety of outdoor activities, making it an ideal location for you and your family to explore.
And don't forget to check out Horizon City, where generally you'll get more bang for your buck. With new growth in the area, entrepreneurs may find Horizon full of opportunities. It also provides a respite from the hustle and bustle of El Paso. 
Whether you're looking for an expansive home with a pool and large yard or something smaller with community amenities and little or no maintenance, we have properties of all shapes and sizes to meet your needs. All of our properties offer quick and convenient freeway access to I-10, Loop 375, and/or US Hwy-54, so wherever you are and wherever you go, you can get there with ease.
If you need additional assistance finding the right rental home, don't hesitate to call and speak to one of our knowledgeable team members. We're here to help!
Pay Your Rent Online!
Did you know that you can pay your rent online? It's fast, easy, and secure! Once you register and log in to your Tenant Portal, you'll be able to:
View and pay your bills 24/7 from any location
Set up an automatic payments
Sign up for reminders
View your payment history
Have a Maintenance Request?
You can report maintenance issues and submit work orders 24/7 by logging in to your Tenant Portal and submitting a request or calling (844) 253-0465. 
Buy the Home You Are Currently Renting
Are you currently renting a property from We Rent Homes? Would you like to make it yours permanently? If so, the opportunity to purchase may be available.